We are delighted
to bring you our book, Affluenza Interrupted.  You will be entertained, warmed, and challenged by this collection of personal stories, gleaned from our experiences and learnings in the suburbs of Canadian cities.
Though we both have our roots in country living and have spent 18 years in the inner city (Hugo's book, The North End Lives, reflects on that experience), we have now lived 18 years in more well-to-do areas – the suburbs.
Along the way there have been interruptions: affirmations about good use of resources, and confrontations about negative suburban values we have adopted.
Our hope is that you will find your own story in these pages.  Enjoy the pulse, and feel drawn to change - as we have.
Why read this book?
Consider the following:
"What a beautiful experience when fences melt away!"
"This recession has cost me a lot of money, but now I'm beginning to have a more healthy perspective on wealth."
"I have been nudged to examine my world of over-consumption and ready throw-away – and I am happier."
"I feel less compelled to do and more to be – so much more relaxing."
"It is a life-giving experience to be able to share my gifts with others and also to receive from those around me."
"The rich and the poor meet together; the Lord is the Maker of them all" (Proverbs 22:2, KJV).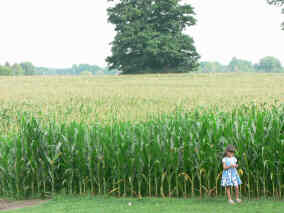 What kind of a world do we want for ourselves, our children, our grandchildren, our great grandchildren?

Read Affluenza Interrupted
Stories of Hope from the Suburbs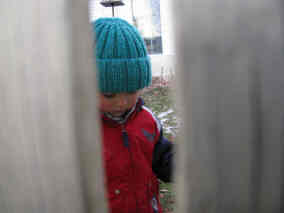 From book section 4, Fences, Offences, and no Fences

Book Excerpts
On Monday morning we took it easy, even slept in a bit. But as I stepped outside, I noticed the clouds were actually beginning to move away. The weather forecasters could be wrong, couldn't they? We quickly began to pack lunches, seek out rain gear – just in case – and load up the canoe, and soon were heading out to Bowness to "conquer the river."

Ahead of me beside the path, less than a block from the overpass, I see more scribbled paint, this time on Millbank Self Storage Works. I stop and pay attention. Clearly visible amongst some flowery spray-painted figures I read: You've got too much stuff. The irony that these words appear on a storage unit does not escape me. Why is it that storage facilities are flourishing in our society? I remember my recent frustration in trying to arrange space in our cluttered garage to store our four bikes.

Jeremy had all the time in the world…. I saw a man, covered with snow and grief, kneeling beside the cross. Faintly I could hear him saying his last farewell to Mary Jane: "I will miss you. You were such an angel. I know you will be there for me when I get to heaven. Just open the door for me when I get there. I love you."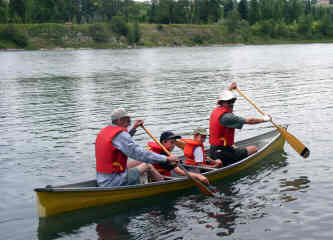 "I carried that worthless $20,000 check in my  brief case for months," reflects Bert. "We had been just a few days too late with our attempt to deposit it. "How many thoughts go through a person's mind in the face of such a loss.

My digital watch tells me it's 5:05 p.m., and the line at the checkout in the grocery store is scarcely moving. How am I going to get supper made in time for the boys to rush to music lessons and hockey practice and my husband and me to get to our meeting? It has been 15 minutes since I wheeled my full grocery cart to what appeared to be the shortest line. Why am I always destined to find myself in the slowest line? … I find myself anxious and angry, biting my lip and grumbling about the unbelievable slowness .… I make a biting comment to my cashier, even though I know it's not specifically her fault.

Were those tears in Ben's eyes as candle after candle burst into living light? Beginning with the first pew, the light from the Christ candle was passed down, row by row until the whole sanctuary was alight with hand-held candles. In that hallowed setting we ended the evening by singing reverently and thoughtfully together, "Silent Night, Holy Night, all is calm all is bright."
Endorsements
"With insight, compassion, and a knack for telling a genuinely good story, Hugo and Doreen Neufeld have gathered an engaging collection of stories from their years of ministry and now offer their reflections to others. What is especially appealing – and potentially transforming – about this collection is its honesty and vulnerability regarding the challenges of faithful living in the suburbs. Though the tales they tell could happen to anyone, many of us fail to see the invitation to conversion in such ordinary events. These encouraging stories show us that when we hold our time and possessions lightly, we will discover the Jesus-way of true freedom and joy. Let the celebration begin!"
- Marlene Kropf, inspirational speaker, writer, retreat leader, Associate Professor in Spiritual Formation and Worship at Associated Mennonite Biblical Seminary, Elkhart, Indiana
~
"Do you eat groceries? Live in a house? Drive a car? Ride a bus? Wonder about your neighbours? Then let Affluenza Interrupted lead you on a journey through the suburbs that will challenge, inspire and illuminate your next trip to the mall or the bus stop. Written with an endearing and often intense honesty, the Neufelds ask soul-searching questions ... and often find God-infused answers ... in the commonplace world of contemporary suburbia."
- Doris Daley Haysom, writer, entertainer, award winning Cowboy Poet, a featured performer at major cowboy festivals in Canada and United States
"In this compelling book, Hugo and Doreen Neufeld share stories about their struggle to use goods rightly. Rather than hurling Jeremiads from the mountain, they invite readers to accompany them in their journey to simpler living and faithfulness to Gospel values."
- Paul Dekar, long term professor at Memphis Theological Seminary, contemplative, peacemaker, Baptist Peace Fellowship of North America board member, author of numerous books including, Creating the Beloved Community
~
"Doreen and Hugo Neufeld have a wonderful gift for telling vivid stories that draw the reader in. With their evocative word-pictures it's not hard at all to imagine the scenes they are describing. Readers will recognize a couple of fellow-travelers and be encouraged and challenged."
- Tim Chesterton, storyteller, musician, songwriter, Anabaptist Anglican, Rector of St. Margaret's Anglican Church, Edmonton, Alberta

Major Sections of Affluenza Interrupted
1. Eye Openers in the Midst of the Good Life
2. You've got Too Much Stuff
3. The Gospel of Hurry Up
4. Fences, Offences, and no Fences
5. The Rich and the Poor Meet together
6. Unearthing Deeper Values
7. A Benedictory Story – Making a House a Home